Smartix company announces the launch of turnkey solution for self-service kiosks in restaurants, cafes and fast food establishments. The complex is an independent development with a well-thought-out set of functionality that takes into account all the requirements for modern automation systems for receiving orders and paying.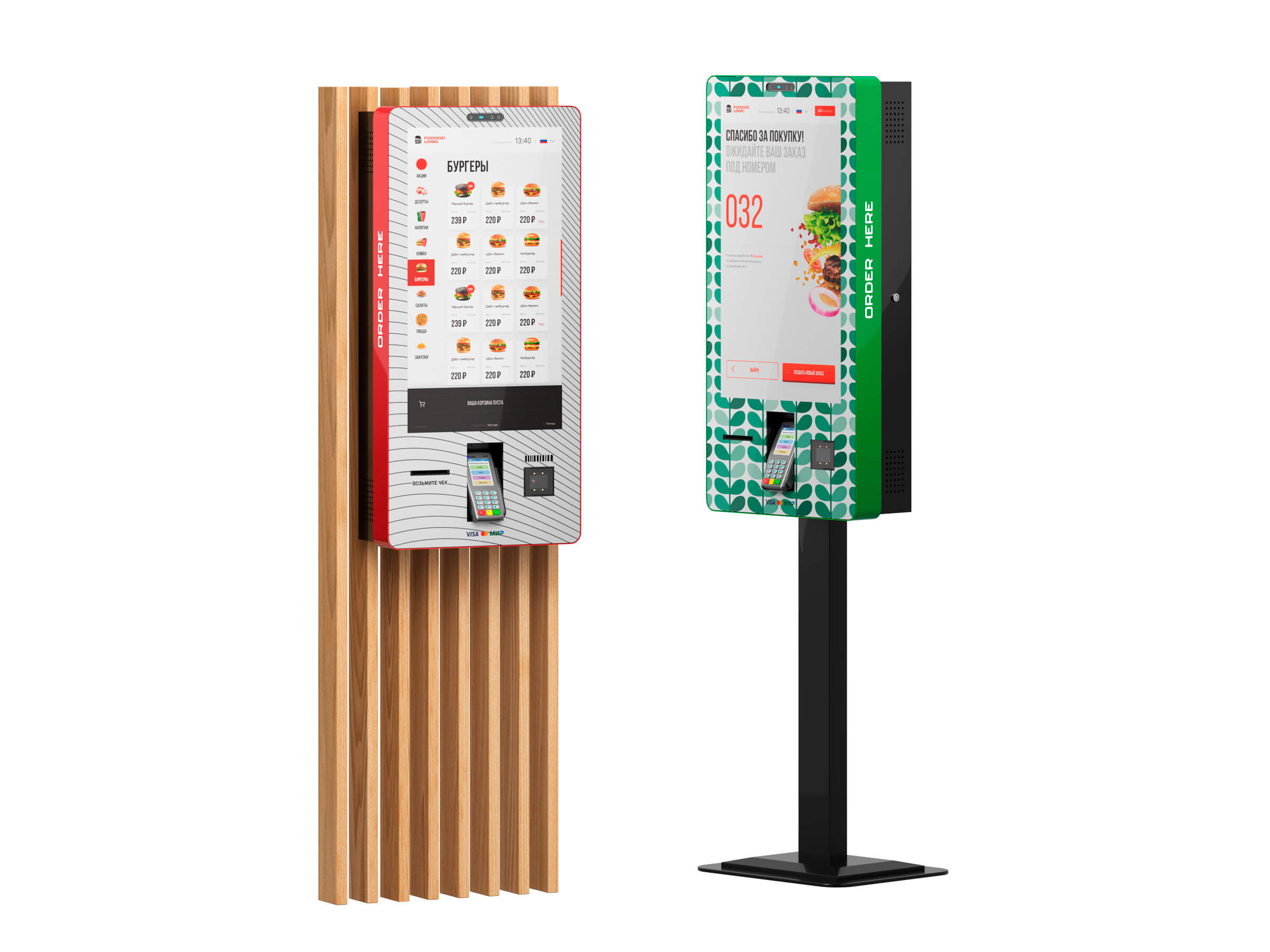 Функциональные возможности

Customizable menu showcase with groupings
Selecting the type of order receipt — in the hall, take away, delivery to the address
Support for modifiers, additives to dishes, drinks and other items
Shopping cart with the ability to edit an order in a couple of clicks
Acceptance of payment by bank card, via FPS and payment by glance service from Sberbank
Ready integration with iiko, support for other accounting systems at request
Support for loyalty systems (points, gift certificates)
Managing ads, videos and banners on interface screens and when idle
Styling and branding of the interface, any improvements on demand
Remote monitoring and control of devices in a single back office based on a central server
Network status monitoring and technical notifications
Product showcase

Kiosk has an interactive menu with a range of dishes and drinks. The system supports creation of product groups with flexible editing. Integration with an internal accounting system involves changing the menu according to specified conditions, for example, depending on the availability of components for cooking or implementation strategy.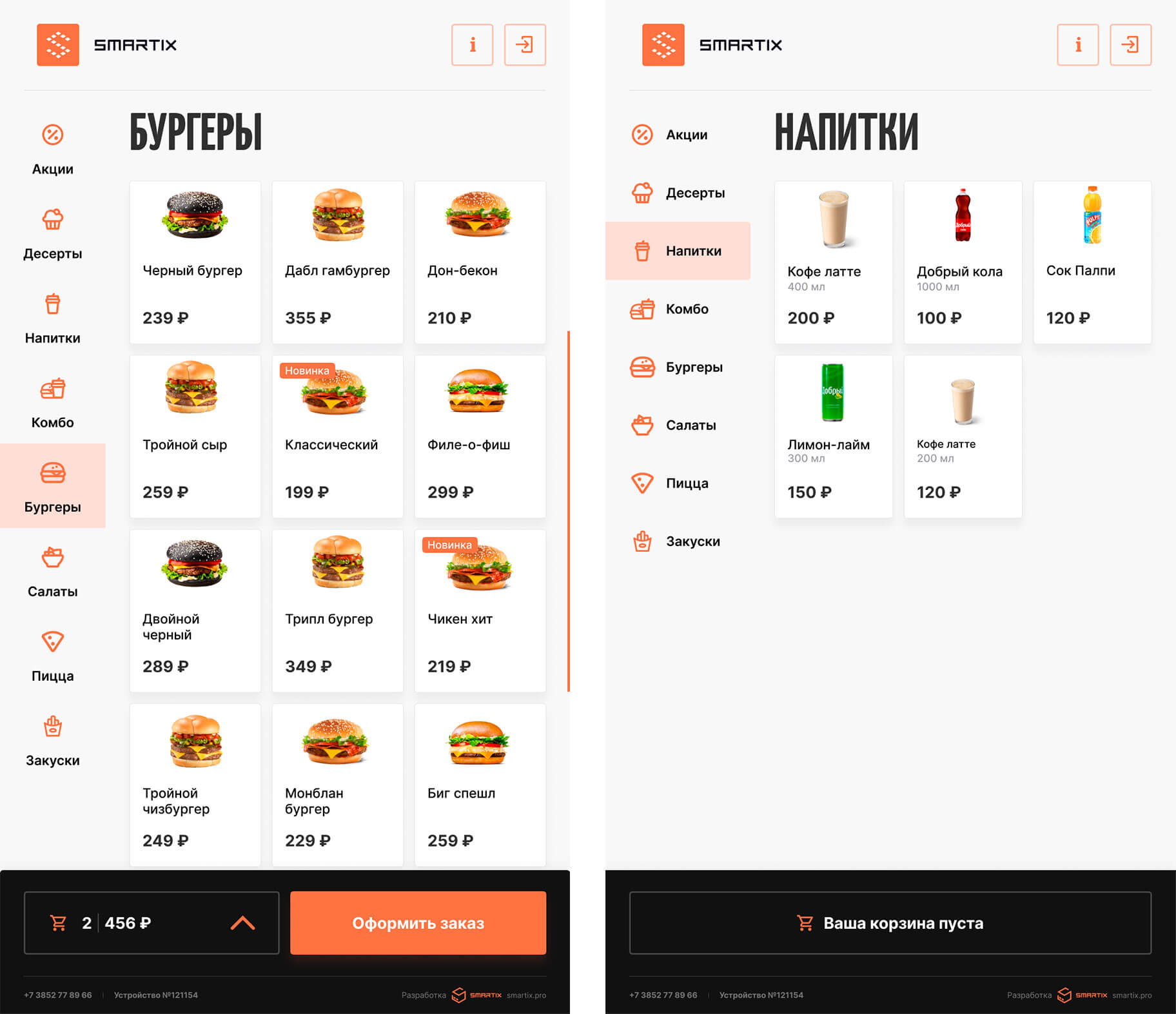 Modifier support

Smartix self-service kiosk allows to freely edit the order, offers customizable additional items — components, sauces, etc. The system supports group modifiers for adding many components, as well as simple modifiers in the "one component or another" format. Implemented the functionality of choosing the dish size or drink volume.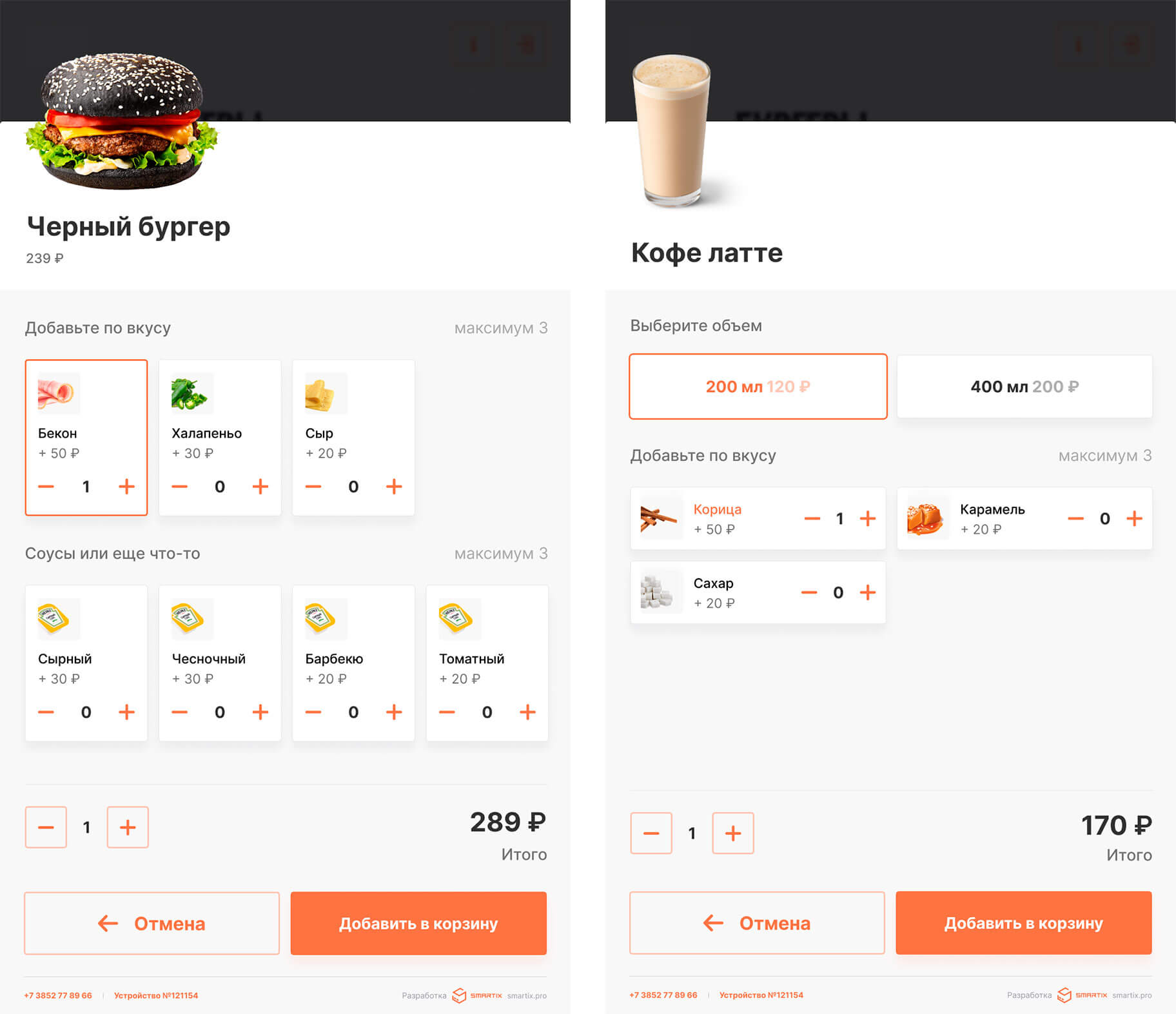 Product cart and up-sell

Product cart allows visitors to edit items by a few clicks, manage the content of the order, add, change the quantity and exclude dishes. The system supports additional items to the order, offers customizable dishes and drinks to increase the average receipt amount.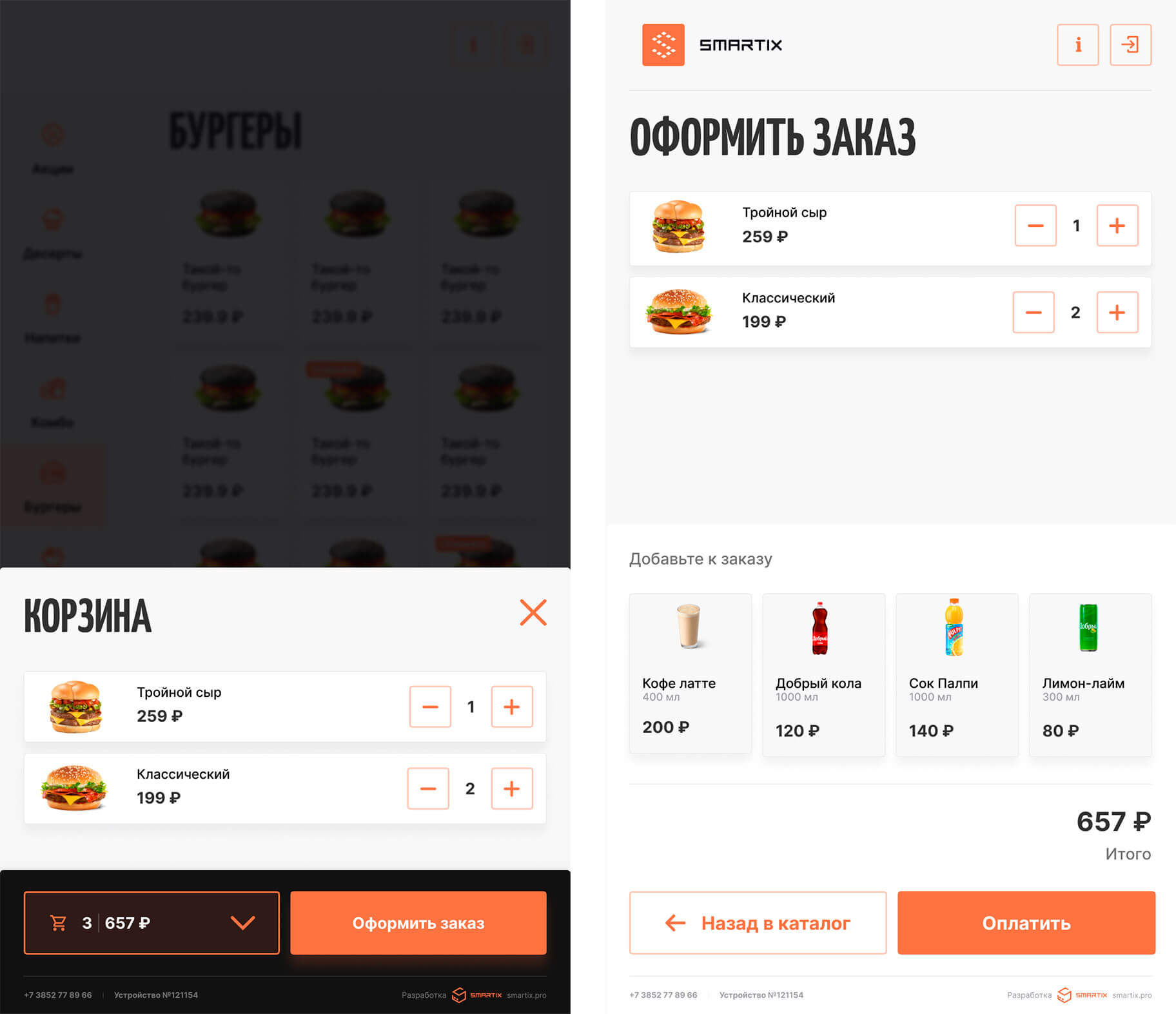 Stop list

If one of the ingredients runs out during cooking, dish goes to the stop list. Stop lists are checked when the showcase is drawn, as a result, the dish disappears from the menu.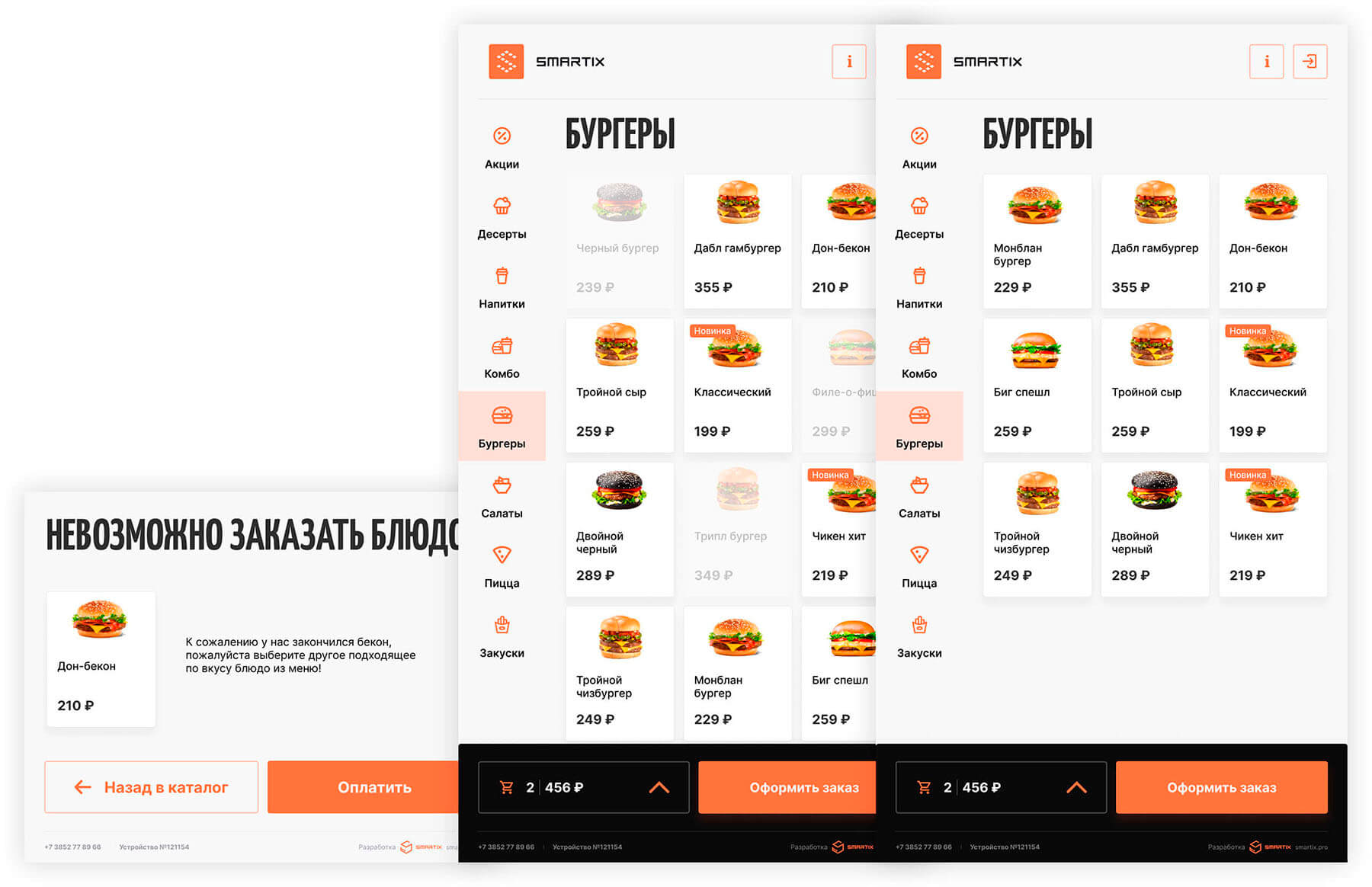 Stop lists are also checked before the payment starts so that the components do not run out during the checkout process. Checking product cart for the presence of dishes or components in the stop list eliminates errors when ordering.
Implementation and launch of kiosks

If customer already owns kiosks in existing establishments and considering replacing the system with a modern one, Smartix software is perfect for this task. The system supports any set of hardware configurations, online cash registers and POS terminals of any banks.
Smartix is also ready to offer potential customers a wide range of premium self-service devices in floor, table and wall versions at one of the most competitive prices on the market.
Well-thought-out complex, designed specifically for the catering industry will improve the level of service and customer focus. Support for flexible improvements and development of functionality will turn existing kiosks into a digital platform with unlimited possibilities.
Solution for clients of any size

For large companies with large-scale restaurant chains Smartix software can be supplied in boxed format under a license for installation on customer's servers. A pilot launch is possible at kiosks in the cloud at minimal cost to test the functionality before purchasing a license.
For small customers with single devices, launch of cloud software is offered with a subscription for a selected period. At the same time, system support is performed by Smartix specialists.