Smartix specialists in addition to self-service checkouts and payment kiosks offer retailers and e-commerce companies the implementation of Smartix parcel lockers. Complete solution includes various models of parcel lockers with standard or custom set and size of cells/lockers and specialized Smartix parcel locker's software.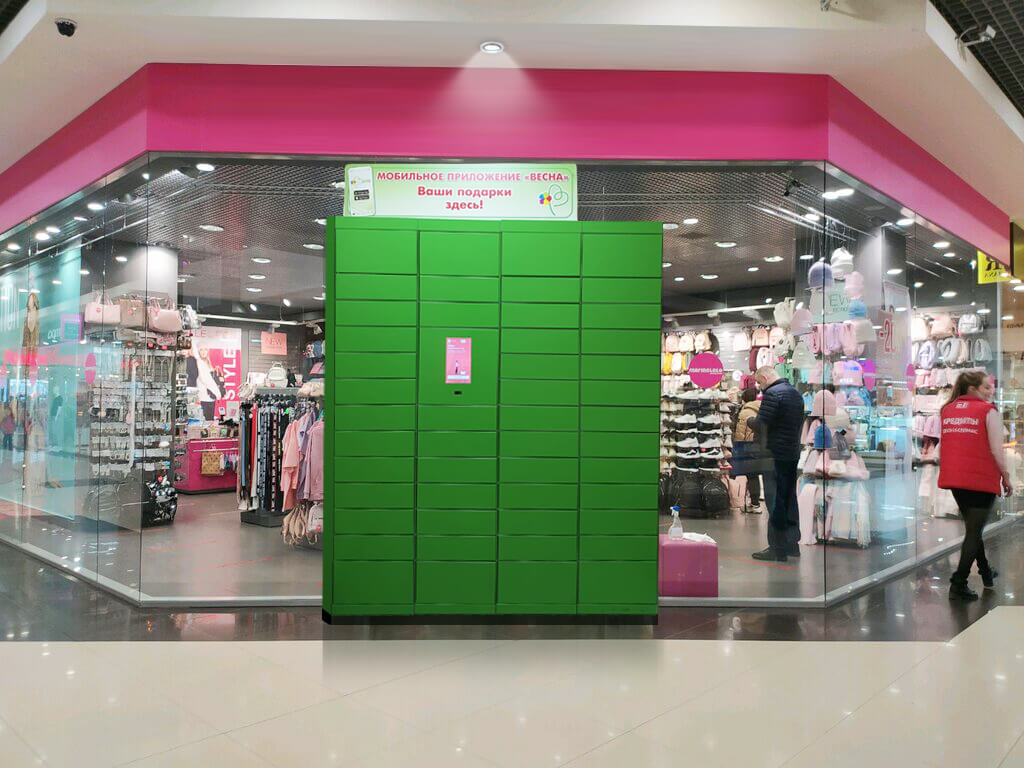 The solution is suitable for launching click&collect services for connecting local commercial outlets, implementing services for collecting online orders by employees and dispensing them to customers through lockers.
Implementation example
Parcel lockers are installed by the system owner in the shopping mall and are used to organize the pick up process of pre-orders for all tenants, united into a single click&collect system based on one or several lockers. Parcel service is offered for use by tenants to dispense prepaid orders. Key benefits of the business model:
Renters do not need to spend money on building a click&collect system on their own.
More attractive conditions and commercial opportunities for renters, increased occupancy of retail space in the shopping mall.
Maximum loading of parcel lockers by connecting as many renters as possible. Minimum equipment downtime and maximum benefit from automation.
Possibility of installing locker's for dispensing orders in areas of the shopping mall with an extended working schedule. For example, outlets with staff close earlier than the entire mall, which can be open until late at night.
Reducing contacts in response to COVID-19.

Renters can connect to the locker's system with their online stores or can be combined on a single mall website or in a mobile application. Customers select products remotely and independently receive them at a convenient time through the device.

Smartix parcel lockers support the simultaneous operation of various functionalities on one device:

Some of the cells can be flexibly used for temporary storage of personal belongings or purchases of visitors, with the possibility of setting up a paid or free storage service.
The devices support direct sale of previously inserted items in cells through an interactive storefront.

Result

System owner provides shopping mall's renters with access to a single device that effectively solves e-commerce tasks, bringing the shopping experience to the modern level. The attractiveness of the shopping mall, the occupancy rate and the number of visitors are growing.

The device works both with prepaid goods and supports payment of orders on a parcel locker through a POS terminal. Fiscalization of payments is carried out on the device or through a cloud service.

Choosing Smartix, the customer receives a range of services for project evaluation, equipment selection, technical and consulting support. Parcel locker's software is supplied in cloud format by subscription or can be installed at customer server. Connection and management of tenants, all operations of entering and dispensing goods are monitored in the back office, online monitoring of the equipment's technical condition is also provided, financial transactions and interaction between participants of the locker's system are monitored.